Read&Write for Education Product Updates
What's new?
Read&Write for Google Chrome: Read Equatio math in Word Online - Math equations and other STEM content created with Equatio in Word Online can now be read aloud by Read&Write. Just select the math and click the Play button.

Read&Write for Google Chrome: Copy and paste definitions, images and translations - You can now select text or images from the Dictionary, Picture Dictionary and Translator windows in order to copy and paste. This is helpful for those users who may want to take only specific dictionary definitions or translations and put them into a Doc, Slide or other file.

Read&Write for Windows: Ability to read Equatio math - Read&Write for Windows can now read math or STEM content created by all versions of Equatio (minimum version 1.8).
Read&Write for Windows: Ability to open 3 PDFs in PDF Reader - You can now open 3 PDFs at once in the PDF Reader. This is of particular importance for certain exams in the UK.
August 2022
What's new?
Voice Notes in Google Slides - One of our most popular feature requests, Voice Notes in now available in Google Slides. You can click on a textbox or other object on a slide to insert a voice comment.
New Voices - New voices have been added for the following languages: Bulgarian, Cantonese, Croatian
Ability for admins to configure default settings - Admins can now push out default settings for users via Google Admin Console or Group Policy. They can configure a json file to set defaults like the text to speech voice, language, prediction settings, dark or light mode, and more. These defaults will apply for all new users when they first install Read&Write.
What's improved?
Microsoft sign-in - We made some improvements to Microsoft authentication so it works more smoothly and remembers your login for longer.

What's fixed?
Various issues in Google Docs caused by recent Google Docs updates, including:
- Text to speech repeating the first sentence of a document
- Dual color highlighting not displaying
- Not reading Equatio math alt text correctly
- Check It underlines not appearing
June 2022
What's changed?
Improved experience in Google Slides - We made some improvements on the backend to the Google Slides toolbar, which means a better, smoother experience using features like text to speech and prediction in Google Slides.
What's fixed?
Issue with reading alt text including Equatio math, due to Google Docs update
Several Screen Masking issues resolved
Settings now apply automatically when you make changes, including typing in the number fields for opacity or height
Now works in Word Online and D2L Brightspace
Fix for Dictionary, Picture Dictionary and Translator not displaying correctly on Mindomo
Fix for issues with text to speech on individual words in Word Online
When typing in a Google Doc, clicking Play would not read the last sentence typed unless you move your cursor
New language not immediately applying to the settings menu when you change your language setting
Voice Notes screen not appearing correctly when WriQ is installed
Dictionary, Picture Dictionary and Translator not working with Check It when hovering over word suggestions
Hover Speech not working in Bookshare
Voice Notes not inserting when using Read&Write in non-English languages
Issues with Speak As I Type and Talk&Type not using correct language in Google Docs, Google Slides and Word Online
Read&Write toolbar auto-launching on Sharepoint and Google Docs home page
Toolbar not opening for new users when creating a new, blank Google Doc
Alt text on web pages not reading when selecting and clicking Play (this was reported on OSSLT online exam)
Issue with Check It defaulting to UK language on first use
Month of license expiration date not appearing on About page
Dictionary definitions and images could not be dragged into Google or Word docs
17 May 2022
Read&Write for Google Chrome
Dutch localization issues with Collect Highlights and Vocab on certain websites.
Toolbar in ePub Reader not fitting on screen.
Toolbar icons not appearing correctly on TAFE NSW website.
Docked toolbar scrolling down the page in the latest version of Chrome.
Speak As I Type not working in Word Online.
Speak As I Type sentences only read after a period, but not with question mark or other punctuation.
6 May 2022
Read&Write for Google Chrome
Fix for an issue where Read&Write was breaking the Insert Image feature in Google Docs, Slides and Jamboard.
3 May 2022
Read&Write for Google Chrome
Support for Chrome 88 and above.
Toolbar auto-launching even after closing in Google Docs and Canvas.
Some settings not persisting after upgrade.
Continuous reading not working on certain sites.
Issues caused by WriQ - reading Equatio math, Voice Notes feature.
Issues caused by Grammarly.
Dutch localization issues.
Incorrect link when collecting highlights from Simplify page.
Prediction window flashing open and closed while typing.
Issues with using the Voice List and other dropdowns.
Talk&Type not working in Docs on Mac.
Feature switching not turning off highlights when set to false.
Text to speech reading words with apostrophes as "undefined".
14 April 2022
Read&Write for Google Chrome
Dual-color highlighting not appearing when reading in Google Docs (due to Google Docs update).
Talk&Type getting out of sync in Google Docs (partial fix).
Web toolbar opening in tabs when not clicked.
Prediction setting to follow the cursor not working.
Check It not showing grammatical errors.
6 April 2022
Read&Write for Google Chrome
This release introduces the new and improved Read&Write for Google Chrome version 2.0. This brings Read&Write up to comply with Google's newest security and performance standards for Chrome extensions (Manifest V3), provides more support in more places, and includes some popular feature requests based on customer feedback.
1. More support in more places
Read&Write now works in more Learning Management Systems, websites and other third party environments. This includes:
D2L Brightspace
Canvas new Quizzes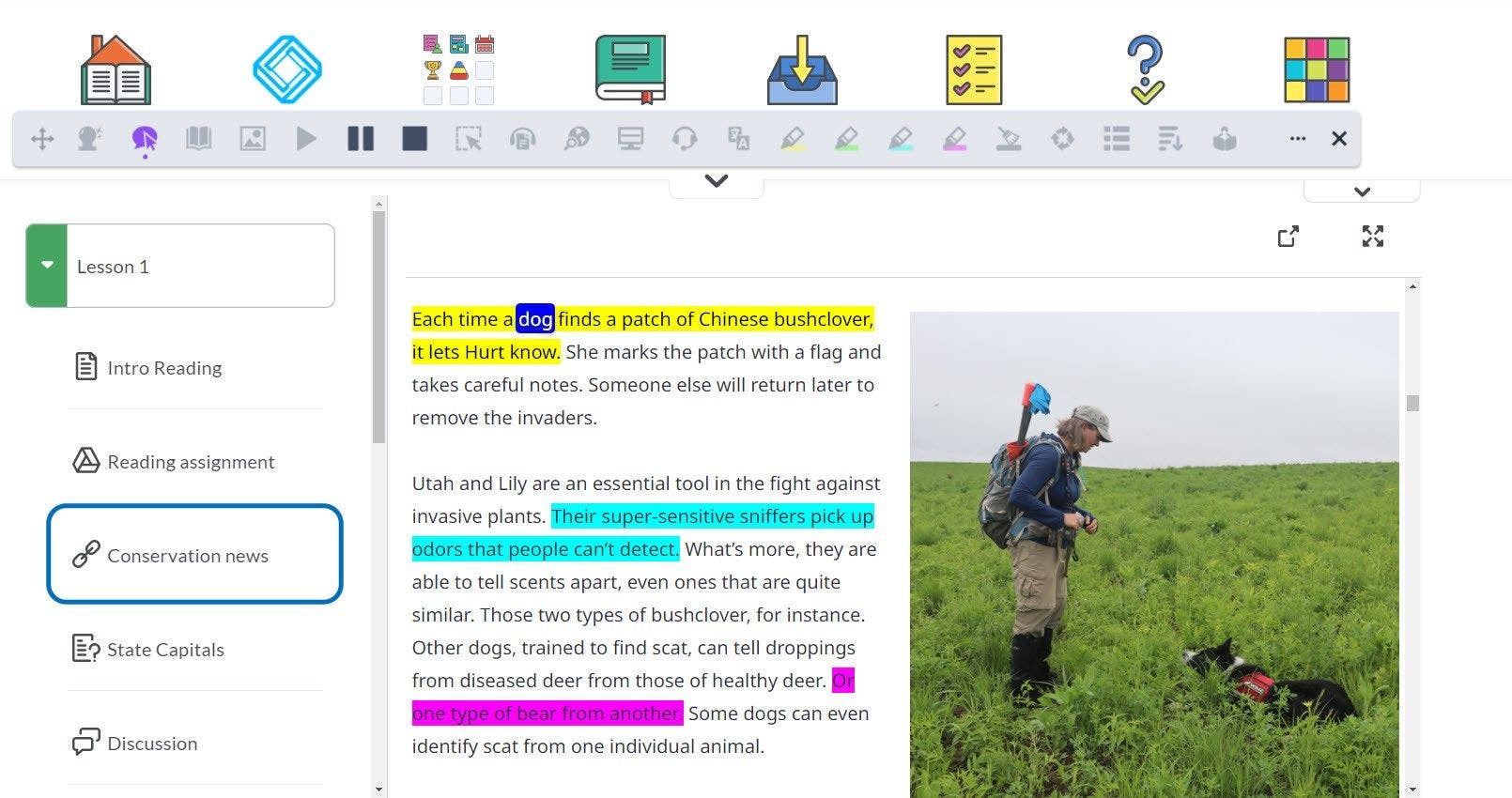 2. New toolbar look and feel
Slightly updated toolbar UI that's a more consistent design with other products like OrbitNote and Read&Write for Workplace. Also includes:
New Translator icon
New dark mode for toolbar
3. Talk&Type in Google Slides
Talk&Type can now be used to dictate into slides themselves, not just Speaker Notes.
4. Read&Write works inside Comments in Google Docs, Google Slides and Word Online
Read&Write features can now be used inside comments - for example reading a comment aloud, or using Prediction or Talk&Type to write a comment.
5. Check It support in Google Docs
6. Additional new features by popular request
Setting to turn on/off read aloud of word suggestions in Prediction and Check It
New voices added - Hebrew, Catalan, Ukranian
Web Search feature now uses your selected default search engine