Certification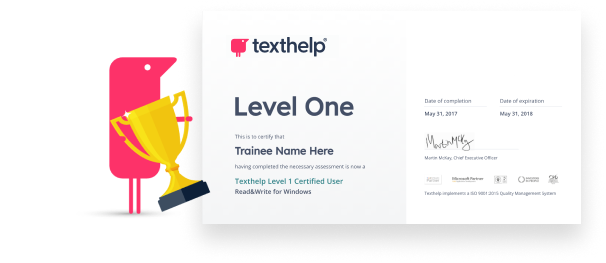 Texthelp Certification Program
The Texthelp Certification Program is for all those who are interested in proudly displaying your expertise in using Texthelp tools and features (Level 1 - Certified User) and for those who can show how to apply the tools for real-world needs (Level 2 - Certified Role Specific Practitioner).  The certification is free and a great way to demonstrate advanced knowledge of the Texthelp programs. 
Level 1
To achieve Level 1 Certification, you must pass an assessment consisting of multiple choice and true/false questions on the basic functionalities of the program.  You must achieve at least 80% accuracy to pass the test.  
This is an open-note, open-toolbar test so please allow at least 90 - 180 minutes to take the assessment which must be completed all in one sitting.  When you have taken and passed the assessment, you will receive a logo to use in your signature. 
Level 1 - Certified User is valid for one year from successful completion.
Preparing for your Level 1 assessment
We have gathered our favorite Learning Resources to help you be the most knowledgeable about our programs as well as to prepare you for taking the Level 1 Certification.  Test your expertise and get rewarded!
Level 1 assessments
Assessment guidelines:
All assessments must be completed in one sitting - your progress will not be saved if you close the page during the assessment
It should take you approximately 1-2 hours to complete the assessment
You need to score 80% or more to pass the level 1 assessment
Please allow up to 1 week for your result to be emailed to you
Level 2
To achieve Level 2 Certification, you must successfully pass Level 1 Certification for a specific program first. 
The project is designed to be both usable and practical for the role of that applicant.  We are looking for demonstration of how the program can be used to best benefit both students and instructors.   Within two weeks of the submission of your project, you will receive feedback, a certificate and a logo to use in your signature.
Level 2 - Role Specific Practitioner Certification is valid for TWO years from successful completion.
Level 2 assessment
Texthelp Level 2 - Role specific practitioner certification is offered for the following specific roles:
North America
UK
Asia / Pacific