Latest features and highlights in OrbitNote
17 May 2022 - Scanning for all PDFs
OCR scanning now available on all PDFs
For non-image PDFs, you can now scan them by clicking three dot menu and choosing Scan Text.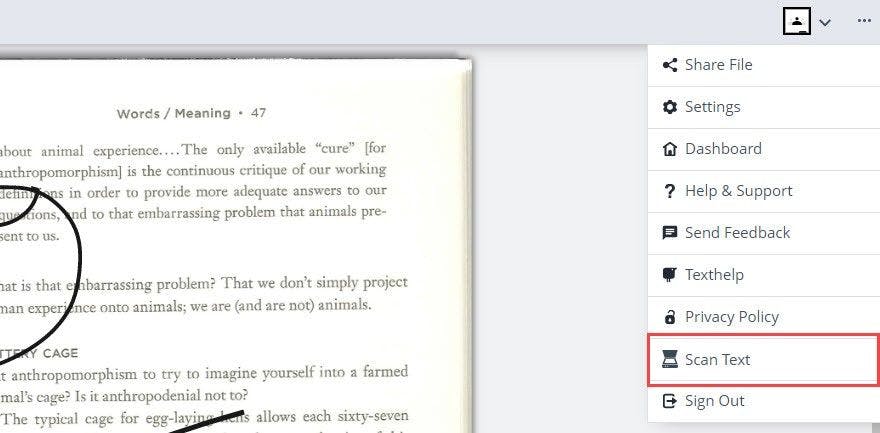 Bug fixes:
Issue with annotations not appearing correctly on rotated PDFs
PDFs not loading in Google Classroom grading window
PDFs not loading in Canvas
28 April 2022 - Hotfix
Fix for an issue where a user changed their Google account name, but the change was not reflected on the OrbitNote dashboard.
11 April 2022 - Canvas LTI now available
The premium OrbitNote Canvas LTI makes PDF assignments in Canvas easy and engaging for both teachers and students.
Teachers can select a PDF, pre-annotate, and share so each student gets their own copy.
Students can then use the OrbitNote tools to complete the assignment and turn in.
Teachers get real-time monitoring to see student work in progress in the SpeedGrader, and can give a grade and feedback once the student has submitted. They can also return the assignment to the student to continue working and submit again.
Bug fixes
Danish text spacing - fix for an issue with additional spacing showing up in some Danish textbook PDFs
Comments workflow changes - minor changes to comments in Google Classroom and Canvas
16 March 2022 - Change font size, Create Copy and more improvements
Set your default font size
You can now set your preferred font size when typing in annotations, and this will follow you in every PDF you open. You'll find the setting under General > Text Size.
Create Copy of view only PDFs
Want to share a view only PDF and give people the option to create their own personal copy? This is automatic now in OrbitNote.
When you open a View Only PDF, you'll be prompted to create your own copy and it will save to Google Drive or OneDrive.
Share option for Google Drive PDFs
Under the three dot menu, a Share option that brings up the standard Google Drive share screen.
Reduced Microsoft permissions
Removal of some Microsoft permissions that are no longer needed.
Remember previously OCR'd PDFs
If a user opens an image PDF that they have previously scanned and made their own copy, OrbitNote now remembers and directs the user to that copy they've already OCR'd.
UNIC Domain list update
Bug fixes
Talk&Type continuing after clicking away from a text annotation
Scroll bar hidden behind toolbar in large PDFs
Line Thickness control box difficult to use
Students erasing teacher annotations in Google Classroom
Font issues with certain Danish characters
Privacy Policy link fixed
20 January 2022 - Make PDFs readable with OCR scanning
The premium Scanning feature creates readable PDFs with the touch of a button. Inaccessible worksheets and documents can now be made readable and more accessible right inside OrbitNote.
Other new features
Freehand Drawing usability improvements
This makes the Freehand Drawing feature more user-friendly, now allowing users to:
Scroll between pages while annotating
Erase individual lines/strokes while drawing (rather than erasing the entire drawing)
Open from OneDrive
On the OrbitNote dashboard, now Microsoft users can open PDFs directly from OneDrive.
Bug fixes
Voice Notes folder cleanup - one common folder is now used for storing Voice Notes in Google Drive
Teacher pushpins disappearing - fixed an issue where pushpins were disappearing in Google Classroom assignments, and needed a refresh to reappear
Textbox expanding - fixed an issue where textboxes were expanding when printing a PDF